Here in NYC we love our dogs! Many New Yorkers get up early in the morning to take their dogs for a walk before work and rush home afterwards for a repeat!

 
After walking your dog as you dash to the bus or subway to get to work keep an eye on your local stores and banks!
I noted many shops in my neighborhood are putting out dog bowls of water to help pet owners keep their dogs hydrated in this intense summer heat!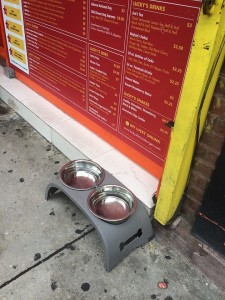 As a city dog owner it's good to know what stores you can stop at to let your pet get a nice drink of water in the morning and or evening! And I don't know about you, but I'm sure to thank that store and make sure I buy something there!
Let's all stay hydrated and healthy this summer not only in NYC but all across the USA!