There have been some terrific women athletes and sports teams of late but the USA Women's World Cup team winning this year really stands out to us here in NYC!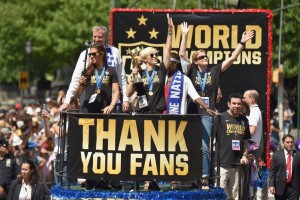 NYC Ticker Tape Parade for Team USA Women's Soccer Champions(WSJ)!

Team USA lost a heart breaker final in 2011 to Japan in a penalty shoot off losing by one goal!
The women from that 2011 team went home disheartened but determined! They trained their minds and bodies for four years thinking of what it would take the win in 2015!
Christie Rampone spoke of  having the necessary guts and the determination to come back!
"Yes, I'm 39 going on 40. Yes, I'm the mother of two kids. Yes, I've torn my ACL and come back from it. I've also won three gold medals and now been to five World Cups."
As the women champion soccer athletes were each interviewed by the international press they were continuously gracious accepting numerous compliments. Then each and every woman redirected the conversation to the team work that won the ultimate championship!
Ali Krieger summed it up well, "Surround yourself with good people, surround yourself with positivity and people who are going to challenge you to make you better.

If you just kind of let yourself stay alone and be by yourself, the negative, it is just not going to help you. You can control two things, your work ethic and your attitude about anything."
NYC loves winners! But even more than winners we love ground breaking champions with class and graciousness! In a world full of brashness and self adulation these women showed NYC and the world how to win with great skill, authenticity, guts and great team work!

And how about those 3 goals from Carli Lloyd that started the match off with a resounding bang!
Thank you ladies for showing us how it's done! We're already planning your next ticker tape parade in another 4 years!